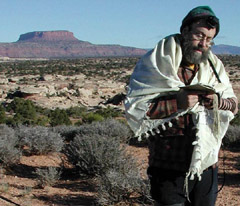 Rabbi Hoffman in the
Utah Wilderness


Rabbi Henoch Dov [Howard] Hoffman
In addition to his private counseling practice, Rabbi Henoch Dov leads study groups and Spiritual-Journey expeditions in Denver, Boulder, Utah, Australia, and Israel.
Experience:
Psychodrama therapist with families, couples and individuals since 1987
Teaching Torah, Kabbalah, Jewish History and Talmud since 1987 in Denver and Boulder
Rabbi and pastoral counselor since 1990
Teaching adults at Shalom al Yisroel, Kohelet, Talmudic Research Institute, and Kehilath Aish Kodesh for since 1985
Education:
Training, internship and facilitation of group therapy with Dr. Carl Hollander at the Colorado Psychodrama Institute - 1980 until present
Psychodrama therapist certification 1980. Pastoral counselor - 1992 until present
Talmudic studies and rabbinical training with Rabbi Shlomo Carlebach and Rabbi Shloime Twerski, 1972-1994; Rabbinical ordination received in 1992.
Finished course work towards a Ph.D. in Education at University of Colorado at Boulder, 1971-1978.
M.A. Antioch - Putney Graduate School, Yellow Springs, Ohio, 1968-1969.
B.A. Cum Laude, Comparative Religion, Dartmouth College, Hanover, New Hampshire, 1964-1968.
Here is a 1979 Newspaper story about Rabbi Hoffman's Urban Survival Course