---
Instruction given in urban survival
By FRED MORROW
Rocky Mountain News Staff
Sunday, December 23, 1979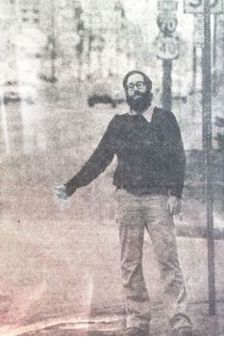 For a man who has enough degrees to float a college, Howard Hoffman spends an inordinate amount of time panhandling.
He has taken to the inner-city streets 15 to 20 times, penniless, to test his survival skills and teach them to others. The urban adventures are sponsored by Outward Bound, the same group that teaches people to survive on their own in the wilderness.
Hoffman, whose office is in his home at 1421 Zenobia St., has a bachelor's degree (cum laude), a master's degree and a Ph.D. He works as a consultant for various social programs, and Outward Bound is one of his clients.
Each urban survival exercise lasts three days. Although he doesn't drink wine to excess, Hoffman, 32, has come to understand the condition of winos better than most.
"I've done Denver five times," he says. "I've done Milwaukee, New York City, San Francisco and Bridgeport, Conn. The next one I'm going to do is Anchorage, Alaska."
If the streets are mean, Hoffman has not found many mean people.
"I was worried about Bridgeport because it is an industrial port. There are a number of blacks and Puerto Ricans. There is above-average unemployment. When we told some of the people what city we were going into, they cried. They didn't like the idea."
While most of his pupils spend all their time worrying about finding shelter and something to eat, Hoffman has become adept enough at getting by that he spends his time in sociological studies. He walks about, asking questions.
"Like," he says, "one day I asked people of all lines of work along East Colfax is they were happy doing what they do. You know, the person I found who was the most satisfied with their work was a woman in a little taco place.
"What people don't know is that a city is a place with a lot of resources."
Yes, there are free lunches. Yes, there are places to stay.
There is so much help, says Hoffman, that most of his pupils run off to the nearest Salvation Army.
"I try to stay away from that sort of thing," says Hoffman. "I try to find a floor to sleep on. But there are a number of ways to sleep. You can sleep in a trash bin. You can wrap up in newspapers. You can get under hot-air vents. One man found some carpet and wrapped himself in that.
"There are just a lot of places to spend the night. A bus station, a hospital, the airport."
On the street, Hoffman starts his day much as people in comfortable surburban homes start theirs. He gets breakfast.
"I go in and sit down and tell people I don't have any money. But I would like a couple of eggs. I don't use any elaborate story. And I always get breakfast."
He always gets lunch and dinner, too, and at night he finds a floor to sleep on. He hasn't yet had to fall back on the Salvation Army.
On the street, he adheres to the principle that when he needs it, it's going to be there.
One night in Milwaukee, he decided to go to a Denver Nuggets-Milwaukee Bucks basketball game. He stood around outside until someone gave him a ticket.
Then, "I was coming through the door when I saw (Sen. William) Proxmire. He was standing at one of the entrances talking, as politicians will, to the people coming in.
"I started talking with him and he was cordial enough. Then I asked him if he had a place I could stay the night. You should have seen his face. He led me over to the police and said, 'Help, this man."
It also was in Milwaukee where Hoffman learned the worst place to try panhandling is at a sporting event. "People are there wanting to kill the opponents. They don't react well to someone trying to get money for some popcorn."
After the game, Hoffman mingled with the fans leaving. It wasn't long before he found a young man who took him home. He had another floor to sleep on.
Believing that there aren't as many mean streets in cities as pictured, Hoffman has run at most 200 adults and teen-agers - a third of them female through the urban course without one mugging.
"The worst thing," he says, "is that one day some white guys tried to fight one of our people who was black. Of course, you have to understand that there is always the random thing. But you have to distinguish from real fears and conditioned fears."
Hoffman believes much of the conditioned fear is cultivated by newspapers, TV and radio.
"You can deal with the reality of the city," he says. "The city is not a lost cause."
Hoffman's next course in Denver will be April 13-15. "Come on out," he says. "Once you do this you can tell your boss to go jump in the lake. You will know how to survive."