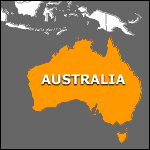 Rabbi Hoffman in Australia
Jewish communities across Australia had a sprinkle of Denver magic last month, when Rabbi Henoch Dov Hoffman toured the country from its southern most tip to the far north of Queensland.
Rabbi Hoffman, visiting Australia at the invitation of the Melbourne-based Hamakom community, gave seminars, workshops and lectures in Melbourne, Sydney, Byron Bay and Brisbane.
His unique blend of Torah study, psycho-therapy and personal spirituality endeared him to the Australian communities, who are already making plans to invite Rabbi Hoffman for a return visit next year.
Highlights of Rabbi Hoffman's tour included a Shavuot retreat held at a farm in rural Victoria; a guest appearance at Sydney's Limmud Oz, a two-day festival of Jewish learning and culture; a Torah Goes to the Movies presentation at the off-beat coastal town of Byron Bay; and a Shabbaton in Brisbane, capital of the northern state of Queensland.
Rabbi Hoffman's method of literally entering into Torah narrative and Talmudic debate by acting out the various roles and opinions captured the imaginations of his Australian audiences.
Rod Myer, who attended the Shavuot retreat, discovered new and exciting ways to connect with Torah: Under Rabbi Hoffman's guidance we abandoned the theoretical path and acted out the story to connect to what it actually meant to us inside; what we related to about it, how we saw the characters and what we felt were its messages.
In the New South Wales coastal town of Bryon Bay, home to many of Australia's alternative communities, Rabbi Hoffman used scenes from the Australian movie Rabbit-Proof Fence to illustrate the tensions between the opposing philosophies of ownership and guardianship in the Book of Genesis.
Some participants at the Limmud Oz Jewish festival in Sydney were so taken with Rabbi Hoffman's teaching they followed him up the coast to Brisbane, where they joined a Shabbaton hosted by that city's Jewish community, described by one congregant as entirely unexpected and very rewarding.
Brisbane communal leader Noach Stern particularly welcomed Rabbi Hoffman's Carlebach inspired Kabbalat Shabbat davening, which, he later reflected, brought fresh air in a room empty despite its fulsomeness, and stuffy despite its many windows.
The Australian communities are looking forward to welcoming Rabbi Hoffman to their shores again next year.
Debbie
---
Here's an email about the Rabbi's visit:
Dear Debbie:
There is much to tell, on the community side and personal, most of which I'll try to fill in for you when next in in Melbourne (see below).
The pshat is he (rabbi Hoffman) is extraordinary, kammah ve-kammah in a place like Brisbane.
In the gerut shiur he opened up many new insights into Ruth and an "outsider's Torah"; plus turning the whole thing back onto the participants themselves (even I couldn't weasel out of it!). It was entirely unexpected and very rewarding.
The Brisbane shul had some difficulties in following (a) new tunes (actually Carlebach oldies and goodies!) and (b) doing four dances arranged according to the death sentences of the Sanhedrin. In the end he cut the dancing down to two, a good call in the circumstances. In a cameo of "the regular congregant" response, one turned to me and said "I've phoned the wife, told her what was going on, and said "Better put the dinner back in the oven, dear, this is going to go on a bit..."
But for the dozen or so that joined in and didn't retreat to the back wall to continue their weekday conversations, it was great - fresh air in a room empty despite its fulsomeness, and stuffy despite its many windows.
Also unexpected was the warm response from some of the more elderly congregants, Holocaust survivors mainly. There were tears in fact at the Shabbaton because of memories of childhood happiness in the Chassidische shtetls of Poland.
Aish Kodesh figured prominently and (privately) kept me up till 4am trying figure out the piece on Nasso.
There were even some "groupies" as they called themselves who followed him up from Limmud Oz in Sydney to come to the Shabbaton (50+ attendees).
Motzei Shabbat, I left him, the groupies and one of my gerut students in our city apartment till late, conducting something in between a shiur and a group therapy session, exploring loss, personal and otherwise and its connections with the departing Shabbat.
For me, he opened up and refreshed new and previously exhausted insights into Torah, including connections to (psycho)therapy and the idea that the basic rituals such as kiddush and havdalah are a symbolic acting-out or psychodrama.
I have to say that psychodrama therapy in itself is not my to my personal taste, but the connections R Hoffman illustrated between it, Torah and Kabbalah are too great to ignore.
By far the outstanding insight (for me) concerned Aish Kodesh (which I'd struggled to decipher) and the theme of "outsider's Torah" - the deep association of women (Miriam) with the hope of redemption.
I didn't get around to asking him how he found HaMakom, and (what I understand to be) its preoccupation with "giving women a greater voice" in the service [Lionel, in conversation]. I wondered how the idea of the "greater voice" sits with what we learnt with R Hoffman.
On a more philosophical note, I thought he dealt well with a particular kabbalistic paradox: the more certain you become about the necessity of doubt (and of risk) the more you are constrained to doubt even this certainty.
It's a reflexive problem. The theme of reflexivity, of encountering the consequences of one's own actions as if they came from another outside source, is central to the paradox of the risk of achieving the opposite of one's desires in piety, prayer, efforts to become closer to Hashem (and so on). It is a delicious and provocative idea for the observant: an absence of a privileged position from which one can declare "the state of play" like an umpire or referee at a footy match. R Hoffman is the first Rabbi I've met who has been interested in this complex of ideas and (more importantly) managed to explain it simply, connecting it to the end (and rejection) of prophecy: lo bashamayim hi, or alternatively, lo beshamayim anachnu.
Carmel & I plan to be down for a family visit in MEL for the Shabbatot of 5th & 12th July, staying at Kimberley for the most part (except for the first Shabbat in Doncaster). Personally, I would like to explore the possibility of an ongoing chevrutah with Lionel and yourself.
We had a Shabbat which Brisbane won't forget. I'm further encouraged in my efforts to try to be like R Hoffman when I grow up.
KT Noach noach@mac.com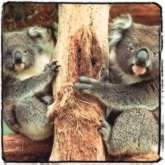 Koala Bears